Data driven results start with how you set-up your data. Setting up your analytics tracking and tags is the most important step you can take as a business. Without proper set up your advertising dollars and business decisions could be misled and mistracked.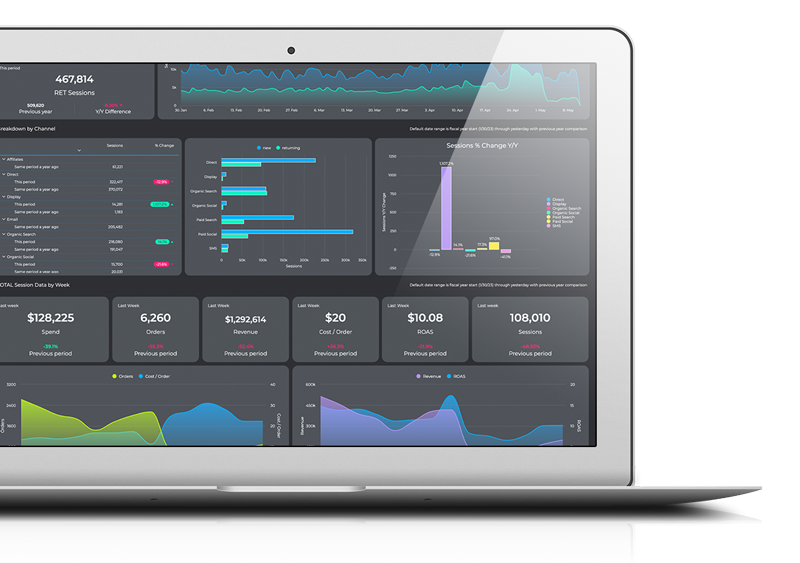 Google Analytics set-up and migration.
Have you set up Google Analytics4 yet? Let our team migrate your current analytics account or create a new one for you. We will help guide you through the strategy and ensure everything is set up correctly, the first time.
GTM + Server side set-up.
Improving the conversion rate of your website through usability testing is one of the most impactful sources of improved performance. Our team has experience leading the strategy and implementation of a complex testing program designed to deliver results.
eCommerce data set-up.
Google Analytics 4 no longer has an eCommerce section. Our team can create the baseline events and custom events for your online storefront.
Data + Tagging audits.
Unsure if your data is giving you the correct information? Our Data + Tagging Audit can help show you where we can improve your data collection and get you up to speed on the latest best practices.
Data visualization.
Take charge of the amount of data you are collecting and organize it to make strategic optimizations. Custom dashboards are a great way to isolate the meaningful data and make optimizations, fast.